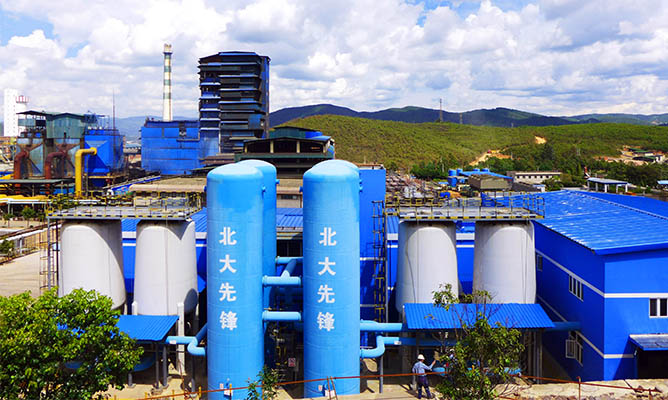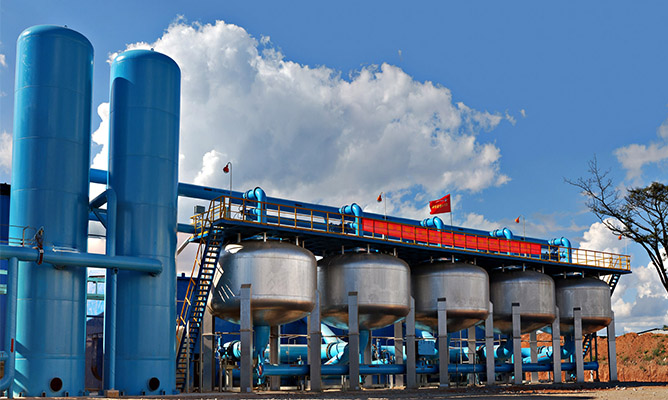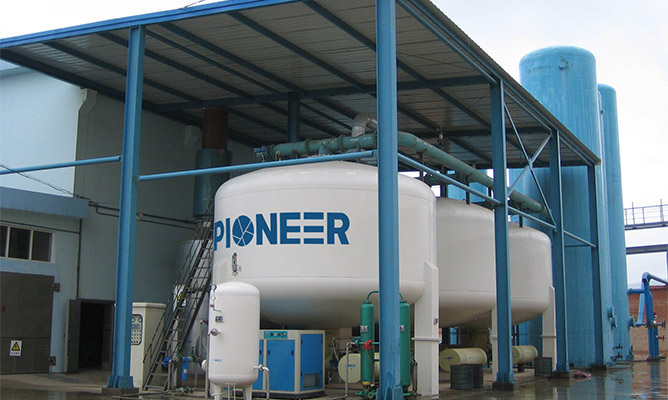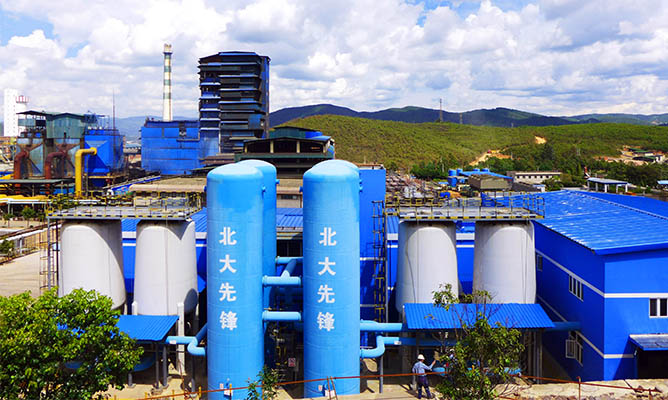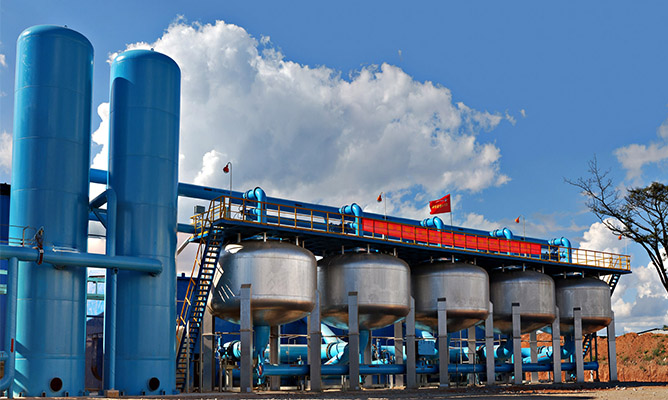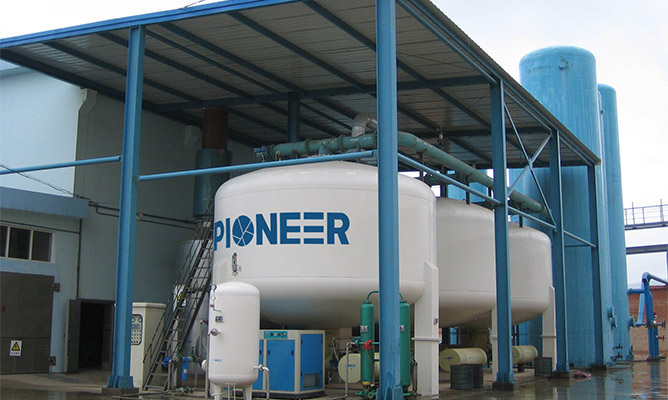 VPSA-O2 Plant
Technology Brief:
Vacuum Pressure Swing Adsorption (VPSA) is an advanced gas separation technology that utilizes the different selectivity of adsorbents for gas molecules to separate gas components. Based on the principle of VPSA technology, the VPSA-O2 units adopt the special adsorbent (model: PU-8) to enrich the oxygen in the air and supply it to the user.
Production Capacity
1000Nm3/h~70000 Nm3/h, Converted to liquid oxygen: 34 TPD~2403 TPD,  Purity: 50%~93%
Typical Applications
> Steel: Blast furnace oxygen-rich coal injection, electric furnace steelmaking
> Non-ferrous metallurgy: combustion-supporting for non-ferrous metals metallurgy including copper, lead, nickel, zinc, tin and gold.
> Chemical: gasification furnace oxygen-rich gas making, carbon black production, sulphur trioxide production etc.
> Kiln energy-saving: combustion supporting for glass kilns, cement kilns and oxygen-rich combustion supporting for waste incinerators
> Papermaking: pulp bleaching process
> Sewage treatment: OEAA technology, oxygen source for ozonizer
Technical Parameters
VPSA-O2 System Parameters (oxygen purity: 90%)
Model
Oxygen yield
Nm3/h
Load adjustment range
%
Water Consumption
t/h
Power Consumption
KWh/m3
Plot area
m2
ZO-1000
1000 Nm3/h
(~34 TPD)
50%~100%
30
Chat with us for details
468
ZO-3000
3000 Nm3/h
(~103 TPD)
50%~100%
70
Chat with us for details
572
ZO-5000
5000 Nm3/h
(~171 TPD)
50%~100%
121
Chat with us for details
648
ZO-8000
8000 Nm3/h
(~274 TPD)
25%~100%
205
Chat with us for details
1350
ZO-10000
10000 Nm3/h
(~342 TPD)
25%~100%
242
Chat with us for details
1350
ZO-12000
12000 Nm3/h
(~412 TPD)
25%~100%
258
Chat with us for details
1508
ZO-15000
15000 Nm3/h
(~514 TPD)
17%~100%
363
Chat with us for details
1890
ZO-18000
18000 Nm3/h
(~617 TPD)
17%~100%
387
Chat with us for details
2088
ZO-20000
20000 Nm3/h
(~686 TPD)
13%~100%
482
Chat with us for details
2800
Note: The above data is based on the following design conditions: atmospheric pressure: 101.325 KPa; ambient temperature: 21 °C; relative humidity: 80%. The power consumption is converted into unit power consumption for 100% pure oxygen generation.
Technical Advantages
Experienced engineering

PIONEER has built the most VPSA-O2 plants in China, including the world's largest VPSA-O2 plant. PIONEER has built up over 100 sets of VPSA-O2plants and taken the lion share in the field of VPSA-O2 in China.
Excellent energy consumption

Energy consumption of PIONEER's VPSA-O2 plant is 0.29~0.32kWh/m3 O2, which is among the lowest, around the world. The VPSA-O2 technology won the first prize for Science and Technology Progress by the Ministry of Education.
Internationally-leading process design

PIONEER has built up the first set of radial bed in China.Independently-developed five-bed, air intake and other original process designs have proved obvious advantages.
The independently-developed lithium-based adsorbent

PIONEER's independently-developed and produced lithium-based VPSA-O2 adsorbent PU-8 is featured by high selectivity and high working capacity of nitrogen, which is among the best around the world. Based on the high-efficient lithium-based VPSA-O2 adsorbent PU-8, combining with the unique airflow distribution technology, advanced process design and reliable supplementary devices, PIONEER has successfully ensured energy-efficient and large-scale VPSA-O2 plants to provide O2 product at a lower cost.
Mature and reliable system running

The long-term engineering practice has proved that PIONEER's VPSA-O2 plants are stable and the supplementary devices are mature and reliable, thus ensuring the continuous production for users. PIONEER is committed to mutual development with the customers, by providing economical O2 utilization programs, optimization of existing plants or on-site gas supply.
Technical Principle
The VPSA-O2 after desorption is blown by a blower and enters the adsorption vessel of the VPSA-O2 system after being filtered and removed mechanical impurities. The adsorber is a double-vessel system, and its product is oxygen. Nitrogen, carbon dioxide and water vapor in the air are adsorbed, and a vacuum pump will be applied after saturated adsorption to ensure the adsorbents in the adsorption vessel are completely desorbed for regeneration. The double-vessel VPSA-O2 system ensures continuous oxygen generation through cyclic switch of the program control valve under the control of PLC (data control system).